The higher the speed, heat, and coolants, the smaller the droplet size.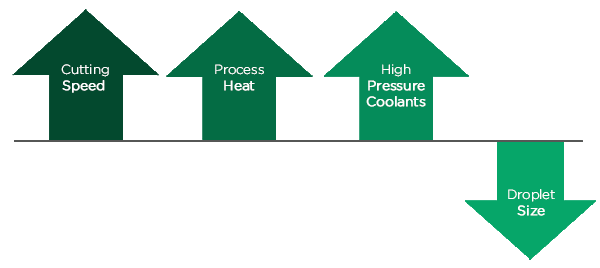 Lubricating fluids + highspeed machining = oil mist/smoke
How is Oil Mist & Smoke Produced?
As industrial machining tools work faster to improve productivity, coolant delivery rates, and pressures increase, and air pollution is generated. Exposure to these contaminants is detrimental to both human health and the surrounding environment.
ScandMist removes fumes, emissions and other harmful by-products of metalworking processes at the source using a 3-stage filtration process.
ScandMist oil smoke and mist collectors allow clean air to be returned directly to the work environment and exceed international health and safety standards for exposure limits to metalworking fluids.
ScandMist exceeds all prescribed limits for exposure to metalworking fluids. To make compliance easy, we can survey your facility and recommend an optimized filter solution for even the most challenging environments!